Electronic Cigarette in Pakistan
Electronic Cigarette in Pakistan
Electronic Cigarette Description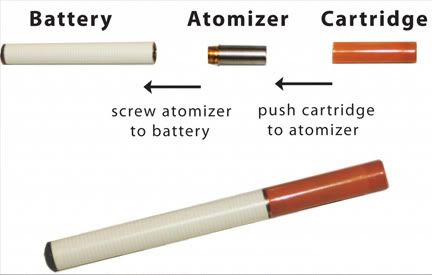 A Healthier Alternative to Cigarettes!

At long last... a product that curbs smoking without changing your routine. The nicotine-free Health E-Cigarette has an authentic look, producing non-toxic, nicotine-free water vapors that looks like and feels like real smoke!

The Health E-Cigarette looks, feels and smokes just like a real cigarette, but has none of the harmful substances found in real cigarettes. It emits an odorless vapor that simulates actual smoke, but dissipates quickly in the air. Plus, the end of the tip glows red, just like a real cigarette!

A rechargeable battery (adapters and battery included) produces no fire you can smoke in bed and fall asleep without worry!

When the battery runs low, simply recharge your Health E-Cigarette with one of the three included chargers (USB, Wall or Car). Yes you can enjoy your Health E-Cigarette in most non-smoking establishments! Smoker's no longer have to suffer outside in inclement weather for a few quick puffs... use at your desk, a restaurant, a bar or anywhere you like!
HEALTH E-CIGARETTE KIT INCLUDES:
Health E-Cigarette
Health E-Cigarette Rechargeable Battery
USB Charger
10 Atomized Cartridges - It's like a whole Carton of Cigarettes!

BENEFITS:
Health E-Cigarette does not contain the over 4000 POISONOUS substances and harmful CHEMICALS
found in real cigarettes that cause heart attack and cancer, such as nicotine, tar, carbon monoxide,
acetone, sulfuric acid & more.

You can ENJOY the E-Cigarette in places where regular cigarettes are PROHIBITED, even in bed.

Health E-Cigarette costs less than real cigarettes... Once you buy the kit, cartridge refills are a fraction of what you would pay per pack or carton!

Health E-Cigarette eliminates the dangers of second-hand smoke, so you can smoke around others without causing ill effects.

Eliminate the nasty smells! No more smoker's breath, smoke odor on your clothes and body or in your home & car
Technical Details
Product Description
Electronic Cigarette consists of lithium ion battery, micro-electronic circuit, atomizing chamber, and indicator light at the head of the Electronic Cigarette. It can make smokers enjoy the same pleasure as that of traditional cigar when inhaling the nicotine smog droplet, imitating the whole process of smoking. Electronic Cigarette creates a healthy smoking cultural atmosphere, and has been eulogized by authoritative experts as the perfect combination of modern micro-electronic technology, biological technology and the conception of healthy life.
To quit the tobacco and nicotine smoking, Electronic Cigarette can be used
With the four basic tastes such as the high, medium, low and zero nicotine thickness cartridges to meet the requirements of different smokers. The following Four Steps procedure is designed specially for smokers who is willing to quit reduce their nicotine reduction unconsciously by decreasing the inhaled nicotine volume.
Standard flavours :
tobacco; vanilla; marlboro;mint.
You could choose High,Medium,Low and No density nicotine of each flavor.
Accessories Includes:
battery components 1pc
110-240v Charger 1pc ,
Power line 1pc Atomized cartridge 5pc
Product size: 118.8mm
E-Cigarette size:L155*D11.4mm
Gift box size:L225*W111*H48mm
Other color and patterns available for the E-cigarette.
Different flavor and strengh of cartridges can be choose from, like traditional tobacco, Marlboro, menthol, all kinds of fruit flavour.
The nicotine strengh can be chose for each flavour as:high,medium,low and no.
1*Charger & cable
5* Cartridges
1* rechargeable batteries
1* User's manual &Certicate of inspection
Length:118.8mm
Weight for single cigarette:15g
Nicotine content for wavh cartridge:0.6g
Mouthfuls for each cartridge keep:180mouthfuls
Nicotine content of each cartridge equals traditional cigarette:15pcs
Content of battery:180mAh
Normal working voltage:3.3V-4.2V
Full battery can keep for:200mouthfuls
Charge time:2-2.5hours
Life of battery:300times charger
Kaya.pk offers a best Electronic Cigarette price in Pakistan with free shipping in all the major cities of Pakistan, Electronic Cigarette Price in Karachi, Lahore, Islamabad, Sialkot, Faisalabad, Peshawar, Quetta, Multan, Rawalpindi and many more cities.